Enter all my events
JUN 2013
Recently an organiser of a series of events requested we make it easy for their entrants to enter multiple events at once. This is trickier than it sounds, as each event might can have a different entry form, and as many different entry lists as the organiser has set up...
But we did it, here's how it works:

On the organiser's page, and in our calendar there's an 'all from this organiser' link, which leads to a listing of all events in the series (you can link to this page directly from your website):

Entrants just tick the box next to each event they want to enter. If there are multiple entrylists, those will expand and they must choose which one they want to enter before proceeding: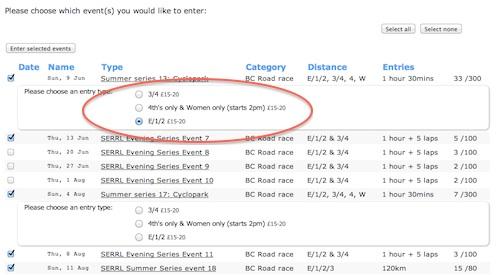 Once done, the entrant clicks 'Enter selected events'. At this point RiderHQ will calculate the minimum number of entry forms they can get away with completing, and show them those forms in turn. For example, if all of your events use the same entry form they will only need to fill in one form, exactly as if they were entering a single event. If some of their selected events have different forms they will need to fill in one of each kind.
After filling in one or more forms, they get to the usual 'checkout page':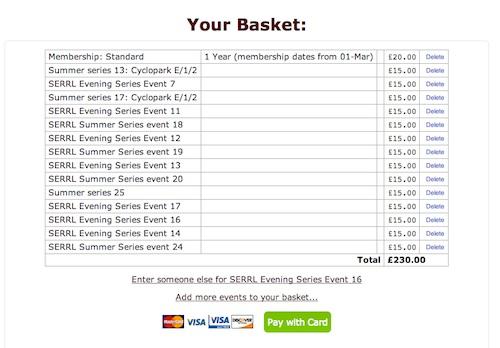 They pay in one go and that's it - exactly the same result as clicking 'enter' and filling in your entry form 14 times, but they only had to do it once!