JustGiving integration
MAR 2015

A lot of our event organisers want close integration with fundraising. Many people combine an event with raising money for charity and the smoother we can make the process of setting up a fundraising page the better.
We were asked to add JustGiving integration by a customer, so we did - you can now:
- Enable JustGiving integration for an entrylist, linked to a particular charity
- Entrants are offered the chance to fundraise for the charity on their entry form
- Once they've paid for their entry we automatically set up a JustGiving fundraising page for them (so they don't have to do it for themselves)
Here are some more details: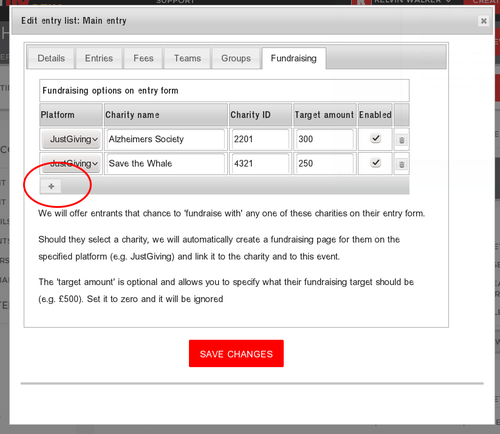 Entrants see this:

Once they've paid for their entry we create an account for them on JustGiving (if they don't have one), set up your event on JustGiving (if we haven't done so already) and create a fundraising page for the entrant, linked to the charity you specified and to your event. They are notified by email and also in our 'entry success' page.
You can set up multiple charities and entrants can pick which one they wish to support. Also you can set a 'target fundraising amount' for entrants pages.
Let us know if you'd like to see support for more features, or for other charity platforms such as Virgin Giving or the BT one!