Start sheets
FEB 2012
At most events you have a list at the start, showing all the entrants, which you use to check off people as they come in. Typically it's called a 'signing-on sheet' because entrants sign it to show that they have read the terms and conditions. You can generate this yourself, by downloading your entrant details to a programme like Excel and printing it out, or RiderHQ can help you by generating it directly saving time and trouble, here's how:
First, click the 'sign-on sheet' link on your event page - this generates a 'default' signing-on sheet which you can customise: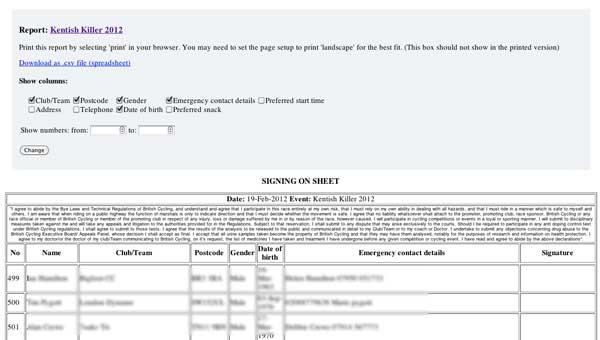 Printing
The dark area at the top, will not show up in a print-out, so you can print this sheet directly from your browser. It is also designed to copy headings and footers to each page, so it looks reasonable, though you may need to set your browser's 'page setup' to print in landscape mode for it to look right.
Customise columns
You'll see check-boxes for all the questions on your entry forms (and for all the questions on your membership forms if your event is linked to a group). Tick these and click 'change' to add them as columns to your signing on sheet.
Ranged printing
If you have a large entrylist, you may want to print out a particular range of numbers and keep them separate. For example, suppose you have separate booths for 'numbers 1-100', 'numbers 101-200' in order to speed up the on-the-day registration process: you can put '1' and '100' in the 'from' and 'to' boxes, click change and print out rows that cover those numbers. You can then click 'next' to print the next set of sheets.
Sorting
The signing-on sheet is ordered in the same way as the entry-list on your event page. To change whether it's sorted by entrant name, time of entry, or ticket number, select these options on your event page
Multiple events
If you have multiple events, your signing-on sheet setup will be automatically shared between them. That way you get it set up how you like once and for future events you just click the link and print.
PDF Ouput
You can also save your signing-on sheet as a PDF file, this is useful if:
You want to email to others in a form that they can print easily
You are having problems printing directly from your browser
You want to save the details for later.
That's it, hope our signing-on sheet generator saves you time!