Cancelling events (how to)
MAR 2018
Cancelling an event as an organiser is a difficult subject but sometimes, especially in the UK the weather will dictate this for us (such as with last week's freak March snow) and we have to make a call on safety reasons for everyone involved. Rather than being a negative thing, entrants will often respect an organiser more for making the right decision early enough for plans to be changed.
Here at RiderHQ we have many ways we can help you with this and maintain best relations with your entrants.
Communications
The first priority once you realise that cancellation is necessary will probably be to tell entrants that the event is not going ahead, so they can adjust their plans.
Of course you can use RiderHQ to email entrants via the Event Dashboard > Email entrants link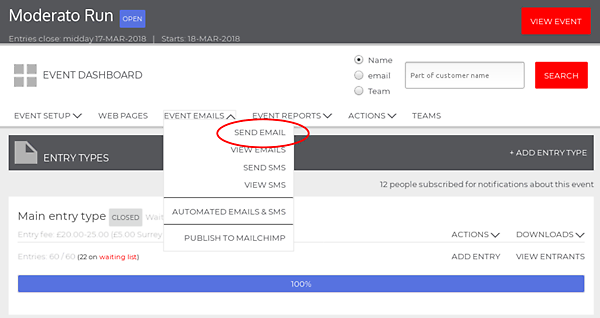 You can also send out an SMS to entrants if the cancellation is on very short notice. Often this will catch people who don't necessarily check their emails outside office hours, or who have full inboxes.
Finally, if you have social media accounts, it's a good idea to update those with the information.
Cancellation and refund policies are up to each individual organiser and specified before entrants enter, but here are 3 options that you can offer to entrants via RiderHQ
1. Move entry to another event
You could list next year's event and let entrants move to that, or just allow them to move their entry to any of this season's events. If you put your event in 'cancelled mode' (see below), entrants can log in to their account (https://www.riderhq.com/mydetails) and next to their entry they will see a 'Move to..' link which they can use to move their entry to any open event on your account.
(If the destination costs more than they paid for their entry, they will need to pay the difference to move more details - you can still manually move people to a different event via the back end if you don't want them to pay extra)
2. Re-schedule the event
To do this just edit the event setup and change the date. You could also add an auto refund policy so people can get a partial refund if they can't make the new date
3. Partial or full refund
In cancelled mode, by default entrants are able to request and receive a full refund for their entry. This is usually what you want, if the event is being cancelled for forseeable reasons, but in the event of bad weather, is not always appropriate contact us to disable this option.
You can, of course combine these options - for example re-schedule the event, but offer entrants the option to move their entry or get a refund if they can't make the new date.
To put an event in cancelled mode, go to the Event Dashboard and click Actions > Delete / cancel, then confirm: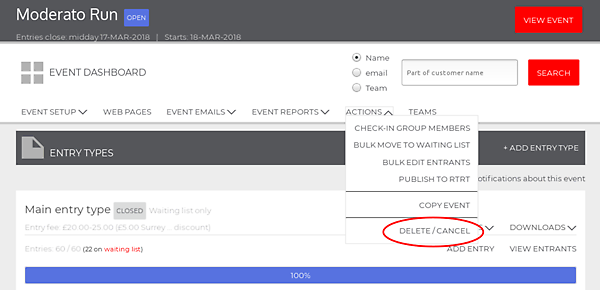 If you need more info or any help get in touch with us
If this happens do not feel that you are on your own, we are here to help you to achieve the best result in an awkward situation. Give us a call help or send an email and we will talk you through all of the options until we find the right thing to help.