Marketing services
SEP 2018
If you use Facebook advertising (or some other paid marketing channel), you might be better off using RiderHQ's new 'Marketing services' feature.
You can ask event marketers to promote one or more of your events, for a period of time in return for a commission. We (RiderHQ) will track the referrals and let you know how many people entered via those channels, and therefore how much you should pay.
Advantages over more general purpose advertising channels:
Our marketing partners specifically target event entrants
You only pay commission once sales are confirmed
Here's how to set it up.
First, go to your 'account dashboard' and select 'Marketing services' from the 'promotions' menu:

Click 'View details' to see what's on offer, choose the parameters of your promotion (i.e. a specific period, on or more events, cap sales at a particular level):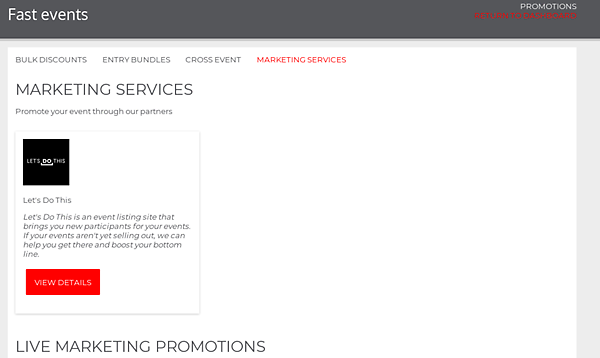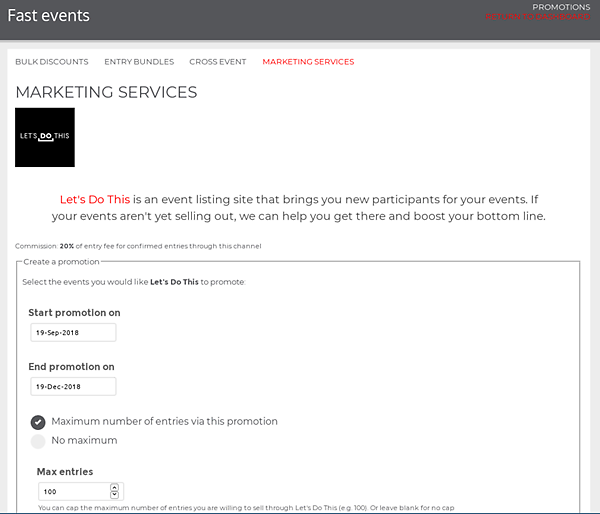 Click 'Request promotion'
That's it! We'll do the rest (our marketing partner may be in touch with you for any additional detail they need). You can track your 'live' promotions, along with referred entrants from the 'marketing promotions screen: