How to set up regional approvers
OCT 2019
Leagues, such as LVRC and TLI Cycling operate races throughout the UK. They divide the country up into separate regions by postcode, and each region has an associated approver who monitors and approves events listed within their region.
Here's how to manage regional approvers on RiderHQ
First, go to the league's 'account dashboard' and click 'Approvals' in the 'Events' section

Now, scroll down to the Regional Admins section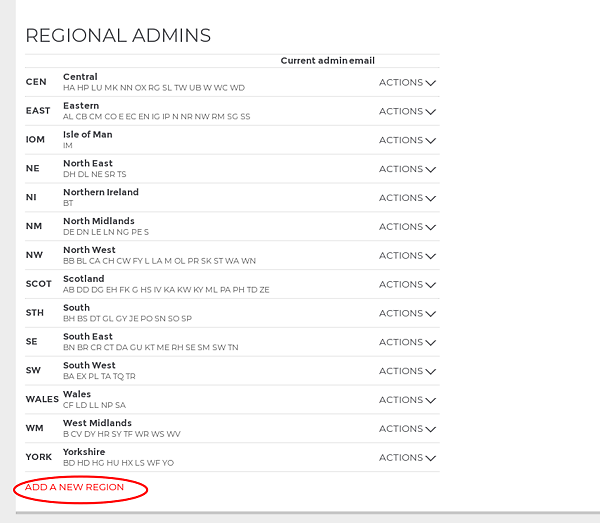 You can set up new regions (defined by a set of one or more postcodes), and /or appoint administrators to approve events within each region. Only league admins who have 'all' permissions can add regions and approve administrators.
Setting up a new region
Click 'Add a new region' at the bottom of the Regional Admins section.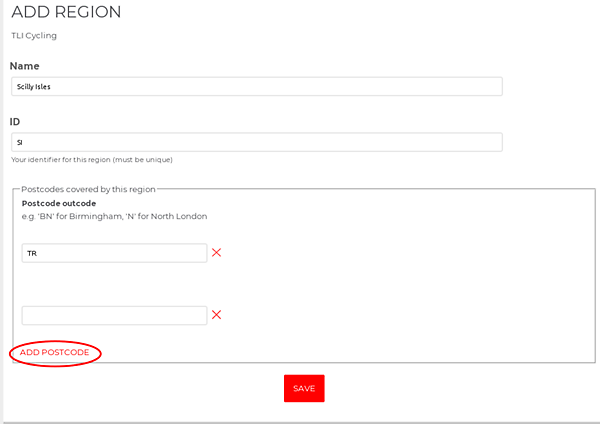 Give the region a name and an identifier. The Identifier can be any text (such as 'North East') but there cannot be another region that already has this name.
Next, add all the postcode 'outcodes' that are inside this region. An 'outcode' is the initial letters in the postcode (such as SE for South East London, or 'BN' for Birmingham).
You can add as many postcodes as you like, but make sure each postcode isn't used by another region.
Setting up a regional admin
Once you have created one or more regions, click 'Actions > Change Admin' next to a region to appoint a regional administrator. This person will have the power to approve new events that are listed within the region on behalf of the league.
Once 'approved', an event:
Appears in the public calendar
Is open for entries (provided the event status is set to 'open' and other rules on when events open are met)

To set the regional admin, simply put their email address into the box and click 'change admin'. They do not necessarily have to be a member of the league on RiderHQ at this point, but they must have a RiderHQ account (they can create an account from the RiderHQ home page)

Once you click 'change admin' the new administrator will have the ability to approve events in this region from their RiderHQ page.
They will be notified when new league events are added within their region (events listed with an HQ address that is among the region's postcodes). They can then use the approvals screen to review the event, contact the organiser and, optionally, approve it.
Here's an article describing how regional admins can approve events