Setting limits using your entry form
OCT 2011
Sometimes you have a limited number of something that you want to offer to your entrants (or members), for example:
You might want to let entrants select their own start time (9am 9:10 etc.), but only 50 may set off at once
You might want to offer T shirts to riders but you only have limited stocks in each design
You might want to offer the first 50 entrants a £5 discount

You add limits using the entry form editor. The editor controls how many people can select each option, and when your limit is reached that option disappears from any further entrants' entry forms. You can add limits to Checkbox questions, multiple-choice questions and drop-down questions. Here we choose a drop-down question, and click the 'edit' link:

On the 'edit question' screen, we add a '(10)' to the second option, meaning 'at most, 10 entrants may choose this option' and '2' to the last: 'at most 2 entrants may choose this one':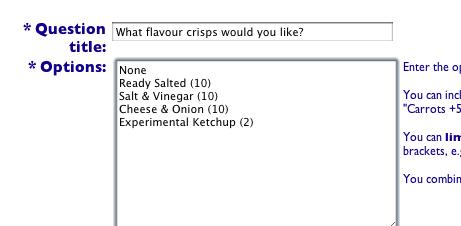 Now click 'save changes' you should see a preview of your entry form, with limits included, this is what users will see:

We automatically remove each option from your form once the limit number is reached.
You can also combine limits with
price adjustments
: