New look calendar
MAY 2012
We've made some changes to look and workings of our calendar to try and make it more efficient to use, and hopefully prettier - here's the new calendar: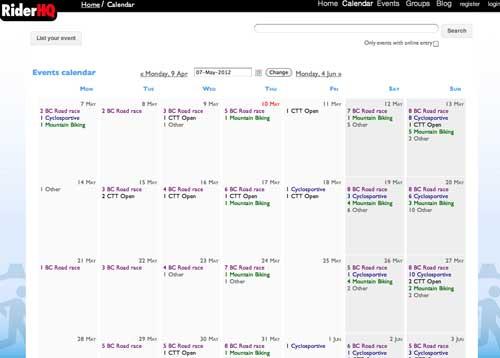 Here's what it looked like before: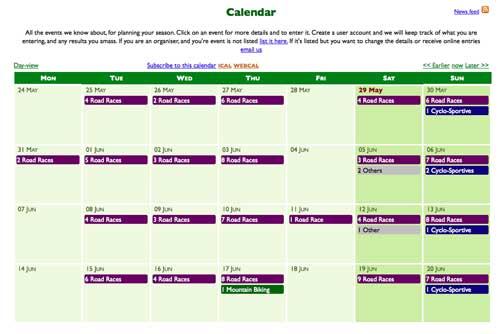 The new colour scheme is a more neutral, and we've added event search and the ability to jump to an arbitrary date.
The idea behind the new calendar is to make it easy to plan your season - we show four weeks at a time, to give you an overview of what's on, and you can pick what period you want to view using the selector, or move forward and backwards four weeks at a time.
Clicking on a day shows you all the events for that day: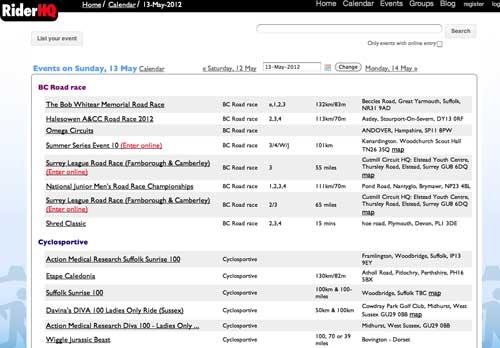 We've tried to pack as much information about each event as possible into this screen. One tip: if you're choosing what to do over a weekend, open the Saturday and Sunday each in a separate browser window and position them side by side for comparison.
We group events by 'type' (cyclosportive, road race, running event etc.), you can click through on each to see even more detail.
Finally, we highlight in
red
if an event is open for
online entry
on RiderHQ, so you can jump in quickly!