Entering an event on RiderHQ
MAY 2012
Entering an event on RiderHQ should be as simple as filling in a couple of forms, here's a typical entry form: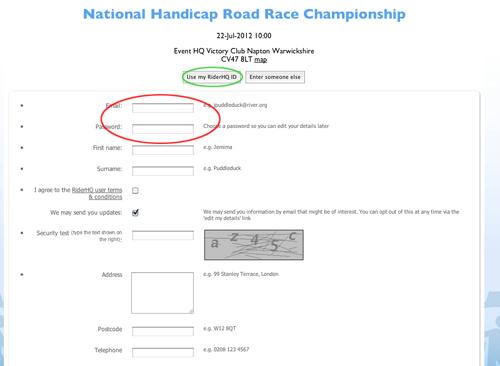 If you don't have a RiderHQ account, enter your email in the box (shown above in the the red circle). Just below, choose a password to secure your entry. This password can be anything - though must be 4 characters or more in length - and is necessary to protect your entry form details so that only you can access them later. It also means we can store the details you enter securely, so if you enter an event in the future you won't have to re-type them.
Make sure you can remember your password (though if you do forget it you can always use our
reset password
form to regain access to your account).
If you do already have a RiderHQ account, click the 'Use my RiderHQ' button (green circle above) and you should see a form like this: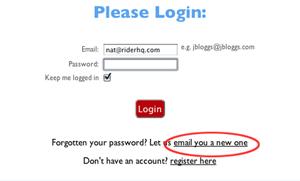 The red circle shows the link you can use to reset your password if you have forgotten it - we will send a new password to your email address, and delete your old password.
Once you've entered the password you chose previously you will be taken back to the entry form but the email and passord boxes will have disappeared, also we will have pre-filled the form with any details you have given us on previous entry forms: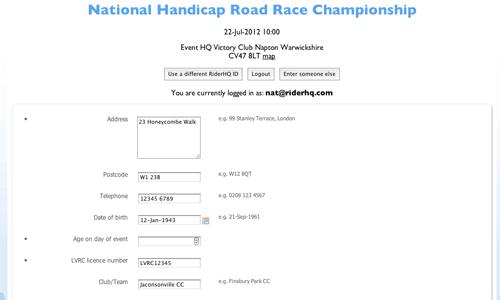 Fill in the rest of the event organiser's questions and click 'enter' at the bottom of the form, which will take you to the basket page: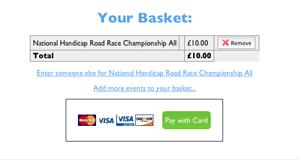 Here you see a summary of the cost and you can add more events, or enter someone else at the same time. When you're ready to pay, click the 'pay with card' button: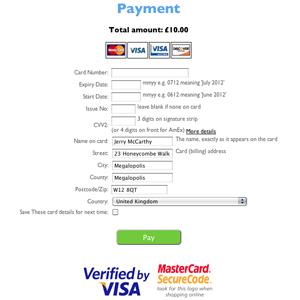 Enter your card details, we'll already have pre-filled the address if you've entered it in a previous step, but if this address doesn't match the address to which your card is registered you should change it to your payment card address.
Click 'pay', and once the payment goes through your place is confirmed in the event! We'll send you an email for your reference and a quick summary of your entry and payment.