Event waiting lists / reserve lists
JUL 2012
Some events on RiderHQ now have 'Waiting lists' enabled. This means if the event is full you can add yourself to a waiting list and be notified if a space opens up - provided you respond in time, you can convert your waiting list space into an entry. Here's how it works:

If you see the 'sold out' badge, you can add yourself to the waiting list.
Once added, you will have a link that looks something like this on your homepage:

You will also be shown on the event page under 'reserves' in the queue: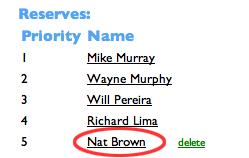 Getting a space

Should you reach the front of the queue before the start of the event, and a space opens up - you will get an email like this (make sure to add 'info@riderhq.com' to your addressbook to prevent the email getting lost in spam!):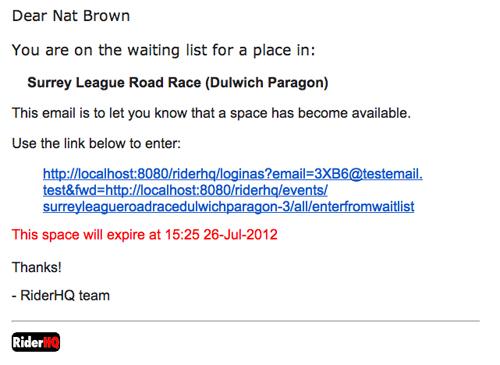 Your homepage will look like this:


Click the link in the email or on your homepage, fill in the event entry form and pay in the usual way and your place will be confirmed.

You have a limited time to do this (we will tell you how long, but typically only 24 hours) since we need to offer the space to the next person in the queue to make sure it isn't wasted - if you don't grab the space in time, unfortunately that's it, we can't make it available to you again as it will likely have already been filled by someone else - so you have to be quick!