Our entry form designer
NOV 2012
Your event entry form is the is many of your entrants' first experience of your organisation, it should be fast-loading, clearly laid out and easy to understand. It's also an obvious place to handle terms and conditions agreements, merchandise purchases and other optional extras. Finally, it shouldn't be dauntingly long or complicated to fill in, and if users make a mistake they should be able to fix it and continue easily.
We provide an entry form designer module that lets you build your own entry form (or customise the default one) to collect whatever information you need, you can:
Ask any question of each entrant (text, multiple choice, checkboxes etc.)
Make questions optional or mandatory
Get entrants to read and agree to your T&Cs
Collect tabular information (such as associated entrants, family members etc.)
Sell add-ons or provide discounts (e.g. +£5 for the longer route, -£2 for juniors or event +£15 for a T-Shirt)
Limit the number of entrants that may select an option (e.g. only 50 people can select the 9am start time, only 2,000 people can have an event T-Shirt)
To see the entry form builder, go to Event Settings > Entry form: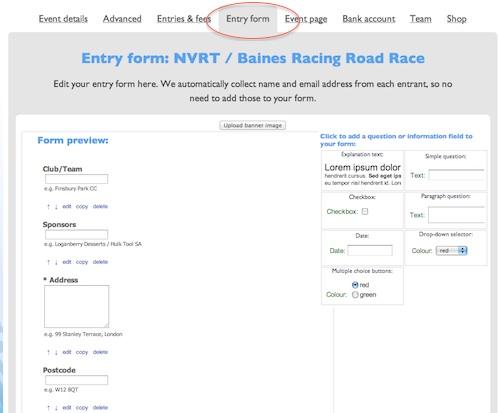 On the left is a preview of how your form will look, on the right the are buttons for adding different kinds of controls (rich text, simple questions, multiple choice questions etc.).
To add a new question to your form, click one of the 'field types' on the right - for example we might add a 'How did you hear about our event' question, so we click the 'add drop down' button and edit the question form: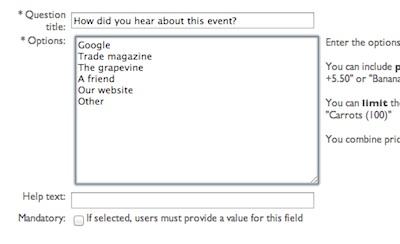 We put in the question title, and all the possible options for the drop down, click 'save' and here is the field as it will appear on our entry form: