Groups: Adding members
OCT 2011
Once you've got your group set up on RiderHQ, it's time to invite some members. Normally these are your existing club members (who may or may not already have a RiderHQ account). In order to add noticeboard items, results, receive group emails and renew their subscription online they will need a RiderHQ account connected with your group.
You can upload your membership in one go, from a spreadsheet .csv file (see below) or add them manually one at a time as follows:
Adding Individual Members
Go to your group homepage and in the 'membership types' box, click 'add member':

now fill in the form adding an email address and an optional message: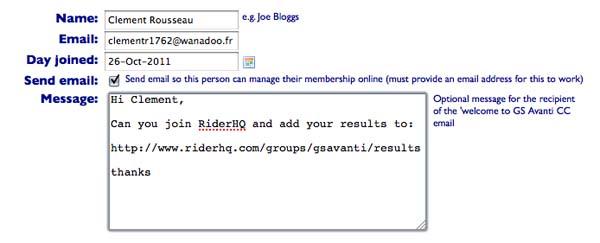 Once you press 'Add' we'll send them an email with a link that will give them access to your group area. They will appear immediately in the members list, so you can include them on group emails, add results for them and so on.
Uploading Your Membership from a Spreadsheet

Go to your group homepage, and click the 'upload membership' link next to your membership type. You will see something like this: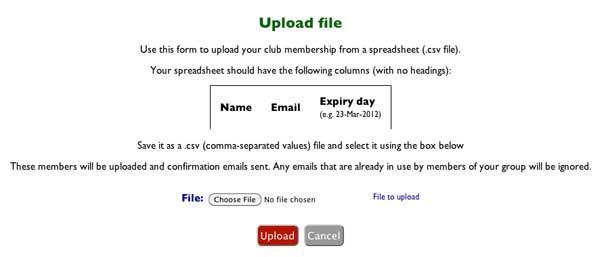 Your membership should be in a spreadsheet file with 3 columns: Name, email and day their membership will expire (expiry date can be in the past if they've already expired and you want to send them a 'please renew' email).
Save your spreadsheet as a .csv (comma-separated values) file, select it in the form and click 'Upload'. You will see a preview of the data, and if all looks good click 'use this file' and you should see a confirmation like this: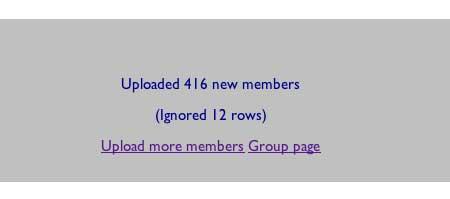 The importer ignores any rows with emails that are already members of your group, or rows which don't contain name/email/date.
That's it. We'll send out emails to your existing members which will include links they can use to confirm that they are members and take ownership of their membership accounts (so they can edit their own details, and log in to the members-only parts of your group pages).