Online entry for LVRC events
NOV 2012
Here's how to accept online entries for
LVRC
events with RiderHQ. Most of these come from our experience running a 'pilot event'
the National Championships
in July 2012 - so
let me know
if you have any feedback or newer info! Also, see the
LVRC FAQ
for more info.
Step 1: Listing your event
The quickest way to get started is to copy another LVRC event (use it as a template).
Click here
to list your event by copying the Don Parry's road race (this is equivalent to clicking the 'List a new event like this one' link at the top of every event page):

Once listed RiderHQ will create an account for you with password, so you can log back in later, and an event page for your event. When you are logged in, your event page will look something like this: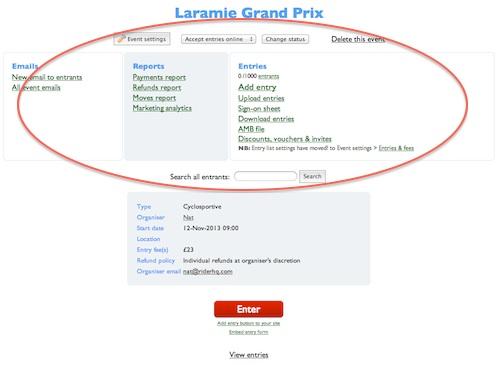 The organiser's controls are circled in red. 'Event settings' takes you to a dashboard page where you can fine-tune your event settings, enter your bank details so we can pay you the entry fees, tweak your entry form and so on: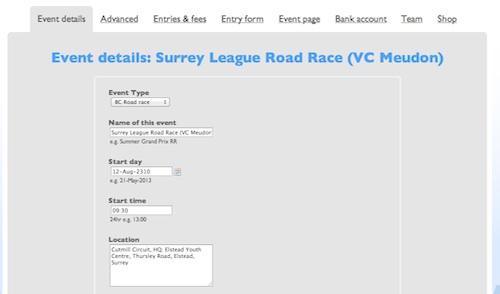 Managing entries

Online entries will automatically appear on the entrants list as riders enter. When the number of spaces reaches the maximum, no more entries will be accepted (you can also set a date when online entries will automatically close, sold out or not). If there are new entries we will
send you a daily report
showing a summary of how many entered and how many spaces remain (unless you switch it off in 'event settings').
You will probably also receive entries by post - add these to the system by clicking the 'Add entry' link on the event page and inputting the entrant details (you can also
upload entries
in bulk, if you have a lot).
Adding postal entries to the system:
Keeps everything in one place so you can generate signing on sheets easily
Means the system has an accurate 'total entries' figure, so can close online entries when there are no more spaces left.
Refunds
If you need to refund an entrant you can do so by finding them in the entrants list (there is a 'search' box on the main event page, or click on 'View entries' and find them there).
Next to each name you will see a 'refund...' link - click that and you can instantly refund them.
Closing entries, printing Signing on sheets
You can set an automatic close date in Event Settings>Entries & fees. Alternatively you can close entries manually from the event page (change 'Event status' and click 'save').
Once closed no more entries will be accepted, so as long as you don't re-open them, it's safe to print signing-on sheets etc.
Print a signing-on sheet by clicking the 'Sign-on Sheet' link on your event page - this should give you a quick way to print out your sheet, or download a PDF which you can print,
you can select which columns and customise the look too
. Alternatively, if you want complete control over the layout, use the 'download entries' link which will give you a .csv (spreadsheet, should work in Excel etc.) file, listing all your entrant details which you can then format how you like.
Payments
We will send you a payments report and pay you any outstanding entry fees each week. The first time we do this we will need to make a test payment to verify your bank account, but once done payments will go through automatically.
That's the basics covered, RiderHQ has many more features and options, but hopefully this is enough to get you started.