Manage club membership online
NOV 2012
Here's a short article on how to set up and manage your club membership using RiderHQ. Managing your club online has many benefits, for example:
Members can fill in your membership form, join, pay and renew online 24 hours a day without your involvement
Members can edit their own membership details
You have an up to date database of all members
'Key-man risk' is reduced - you can have a team of admins who collaborate on managing the club using our easy tools, so you are less likely to get in a situation where 'only X knows how to email members' or 'only Y has the membership list'
To manage your membership online you need to complete two basic steps:
1. Enter club details and create your club page
Here's the RiderHQ '
list a new club
' form, fill this out to add your club to the system and automatically create a central club page (it's free to do this, and you can always delete it, as long as you haven't charged anybody for membership yet):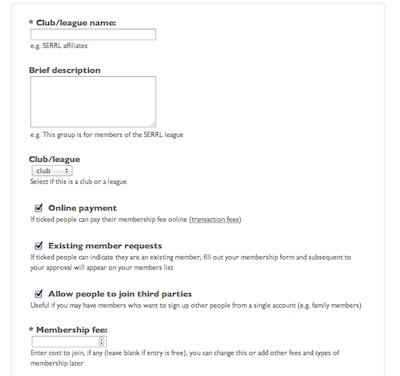 Once you've done that, we'll create an account for you (if you don't have one already) and create a new club, of which you are the owner. The next page you see will be your club page, which looks something like this: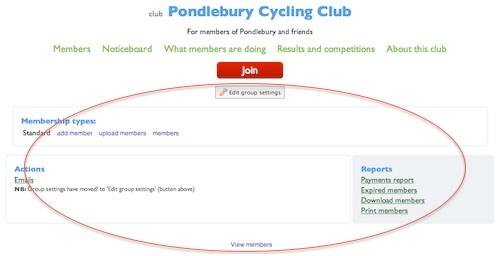 The 'admin controls' are circled in red - you'll only see these when you're logged in as an admin - you use them to view members, send emails, add membership types and so on.
The second step is:
2. Build your membership form
You may have an existing membership form you want to replicate online, or there may be some questions you need to ask each member, or just a terms & conditions/waiver that new members need to agree to - to edit your membership form, click 'Edit group settings' (top of the red circle in the picture above), click the 'Group memberships' tab, and choose 'Edit membership form' (circled below):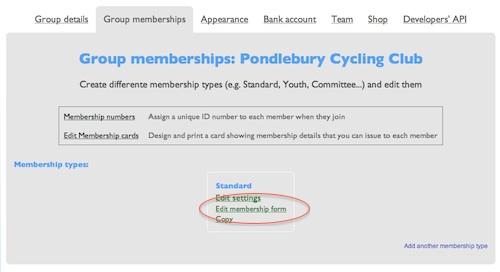 This takes to our
membership form builder
, which should let you design any kind of membership form you need to. You can update the form any time, and add different membership types with different forms (for example if you have a 'junior' membership type you might want to request parent/guardian details via the junior membership form).
You can send the address of the group page from step 1 out to any potential members or publish it on your website, they will see a page like this:

When they click the 'join' button they can fill in your membership form, pay the joining fee and become a member.
That's the basics covered, there are lots more features for managing your club online, for example, you can:
Configure the period that membership lasts, say '1 year from the join date' or 'until 1st Jan of following year'
Choose whether anyone can join or whether their application first needs to be approved by an admin
Invite other people to become admins and select their permissions
But hopefully this is enough to get started!
Contact us
if you need any help, or have questions.